INVEST IN YOURSELF, BECAUSE YOU DESERVE IT!
Invest in Yourself and Your Comfort
in your daily life and free yourself from the hassle of hair removal—choose permanent laser hair removal.
The periods of confinement due to the health situation have brought us a variety of inconveniences and troubles, big and small.
Tired of seeing your hair grow back relentlessly… 
Tired of the chore of shaving and waxing… Wax that drips everywhere…
Tired of ingrown hairs and the marks they leave on your skin…
Free yourself from hair and constraints and discover the real life beyond the bathroom walls!
Say goodbye to unwanted hair with permanent laser hair removal, for a carefree life and consistently smooth skin.
Why start laser hair removal?
Laser hair removal: your path to a hair-free freedom.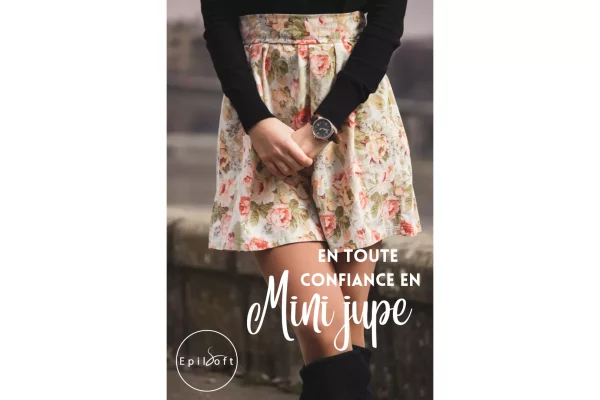 Permanent hair removal offers many advantages for those who want to permanently get rid of unwanted hair. Here are some common reasons why people choose permanent hair removal:
Permanent hair elimination: Say goodbye to temporary methods! With permanent hair removal, you can bid farewell to hair for good. Enjoy smooth, carefree skin without worrying about hair regrowth.
Time and effort savings: Save time for things that truly matter in life, like savoring every moment.
Do you have an idea of the precious time you spend on hair removal throughout your life?
Smooth and irritation-free skin: Permanent hair removal can help reduce problems with ingrown hairs, irritation, and redness associated with other hair removal methods. Once hairs are permanently removed, the skin generally remains smoother and less prone to irritation.
Suited for different body areas: Wear skirts with joy all summer long! With permanent hair removal, you don't have to wait for hair to grow back to enjoy smooth, hair-free skin.
Boosted self-confidence: Say goodbye to insecurities and live your life fully with confidence and assurance. You deserve to be proud of who you are. 
When to start laser hair removal?
The worst enemy for Alexandrite laser is tanned skin
Tanning is usually a major contraindication for fair-skinned individuals when it comes to laser hair removal. That's why it's often recommended to schedule laser hair removal sessions during cooler seasons when sun exposure is limited, such as spring, fall, or winter.
If a patient is tanned, it's recommended to wait at least 2 weeks before starting laser hair removal sessions. Alternatively, if they intend to be in the sun, they should use a sunscreen with SPF 50 for at least 10 days after the session to protect their skin.
Why?
The Alexandrite laser, which is specifically designed for fair skin, turns into heat upon contact with the melanin present in the hair follicle and destroys the hair. When tanning, melanin concentrates in the skin, which guarantees a burn!
Fortunately, there's a Plan B! 
If you don't want to complicate your life, opt for the Nd Yag laser!
What other information should you consider before starting laser treatment?
Read this article (insert link)
Laser hair removal is indeed considered one of the most effective methods for permanently treating hair-related issues, both for aesthetic and therapeutic purposes, such as the treatment of ingrown hairs. However, there are some important considerations to keep in mind regarding the types of hair treated by the laser and recommendations for the treatment. 
Hair Types Treated by Alexandrite Laser: The Alexandrite laser is most effective on dark hair. Melanin, the pigment responsible for hair color, is the target of the laser. Dark hair contains more melanin, making it easier for the laser to target. In contrast, hair lacking melanin, such as white, red, or blonde hair, cannot be effectively removed by the laser.
Hair Types Treated by Nd-Yag Laser: The Nd-YAG laser is specially designed to target dark and thick hair. It is effective for removing unwanted hair on darker skin tones, including phototypes IV to VI. However, it may be less effective on lighter hair, such as blonde, red, or gray hair, as they contain less melanin, which is the chromophore targeted by the laser. The specific wavelength of the Nd-YAG laser (1064 nanometers) allows it to penetrate deeper into the skin, reaching hair follicles at depth. This makes it a suitable option for hair on larger areas of the body, such as legs, arms, back, or chest.
Number of Required Sessions: The number of laser hair removal sessions needed can vary depending on several factors, such as skin type, hair nature, patient's gender, age, and the area to be treated. Some hormonal imbalances may also play a role. It's important to wait for new hair growth before scheduling the next session. The interval between sessions varies based on the treated area, skin phototype, and hair nature. On average, an interval of 6 to 8 weeks is recommended between each session.
Recommendations for laser hair removal: Before starting a laser hair removal treatment, here are some important points to consider:
Avoid Sun Exposure: Throughout the treatment duration, it's essential to avoid direct sun exposure as it can activate the skin's melanin, the target of the laser, and potentially cause burns. It's also recommended to stop using self-tanners.
Avoid Waxing: It's not recommended to wax (or use any method that removes the hair bulb, such as tweezing, depilatory cream, or sugaring) in the month preceding the laser hair removal session. However, the treatment area should be shaved 2 to 3 days before the appointment, unless it's the face.
Optimal Hair Length: Hair should have a maximum length of 1 mm for effective laser treatment.
Inform About Medications: It's important to inform the laser assistant of any medication you are taking, especially photosensitizing drugs, so she can adjust the laser settings accordingly.
Avoid Skin Pigments: It's advised to not wear unwashed new clothes the week before treatment, as they might leave small pigments.
If you want to get information about the prices applied for each area and discover the various packages we offer, you can check them out on our
Rates
page.
How to make an appointment?
Now that you have all the necessary information, you can proceed with scheduling an appointment online on our website or by phone at 0470 581467 / 0476 857474. This process is simple and quick, allowing you to book your appointment conveniently and efficiently. 
Welcome to the world without hair!